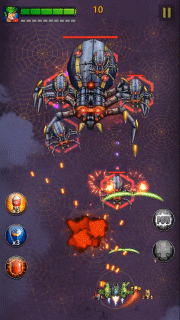 Space Squad : Galaxy Attack is not your usual arcade games – It is the essence of the retro arcade shoot'em ups. In this space shooting game, you will be immersed in its vivid graphic and superb gameplay mechanics, especially the intense galaxy attack.
SHOOT EM UP AND EVADE TO SURVIVE – Alien Attack is coming. Reload your spaceship cannon and surprise the enemies with a destructive missile. Use your skills and agility to fly through the deadly enemy territory, defeat all the alien shooter and rescue your falcon squad.
Are you ready to gather your sky strike force to kill all the alien invaders and protect the sky? – Become the greatest Captain of the Galaxy now!
If you are a fan of space shooting games and like to simulate sky fire shooting, so Space Squad is game for you. This is a game developed from classic arcade game genre, old game but with a new context, more vivid graphics, more modern combat scene, fiercer, more glamorous.
►CLASSIC SPACE SHOOTER GAMES : Top-down perspective, old school graphic, 1942 game and superb gameplay mechanics.
 ►UNIQUE SPACESHIP : Assemble and test with different spaceships and form your own air force
 ►VARIOUS CANNON EFFECTS: Upgrade your aircrafts, devices,and equipments to become the strongest sky strike force.
 ►CHALLENGING PvP: Defeat your opponents to become a space shooter champion
 ►HD GRAPHICS: Beautiful maps levels with immersive missions to complete.
 ► ADDITIONAL MODES: Easy, Normal, Heroic. Accessible to beginners, as well as shooter games addicts.
 ►EXTREME BOSSES: Defeat powerful BOSSES, gigantic enemy aircraft to claim hidden rewards.
 ►HALL OF FAME: Boost your final score with a host of in-game achievements.
 If you are a fan of the Space Shooter, Falcon Squad, Galaga games genre, you should not miss this title!
 Welcome to space games: Space Squad – Galaxy Attack Of Strike Force
 This is a game developed from classic arcade game genre, old game but with a new context, more vivid graphics, more modern combat scene, fiercer, more glamorous.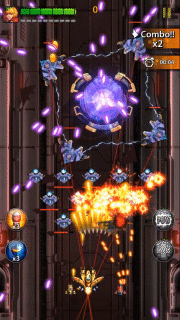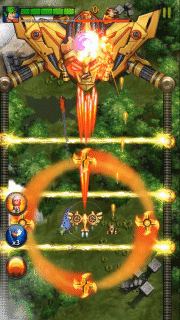 App Name: <Space Squad: Galaxy Attack>
 Apple App ID: <1342545230>
 Developer Name: <ROCKET GO GLOBAL PTE.LTD>
 Submission Date: Feb 07, 2018
 Planned Update Date: Feb 28, 2019
 Binary Type: <Universal>
 App Watch: <No>
 Category: <Games>
 Binary Localized Languages: <English, Japanese, Vietnamese, Korean, Arab, German, France>
Rocket studio is a mobile game development company in Singapore that targets the US and European markets. 
The company was founded in Singapore, and began developing iOS and Android applications ever since.
Rocket is proud of many successful projects.The company has built a strong team of game development specialists and has the reputation of being a reliable partner for its customers, providing high quality products at affordable rates .
As successful mobile games developers in Singapore, our team members are always at the bleeding edge of what is new and hot and continuously developing and releasing original mid-core and casual, social mobile games for IOS/Android.
Every team member shares a passion for video games. In whatever our team make, we focus on bringing innovation, creativity and an experience that will grab the intended audience Name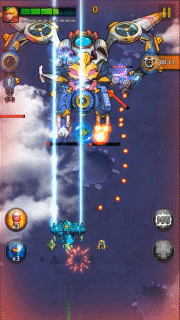 THIS IS A COOL ARCADE SHOOT EM UP ITS GOT PLENTY OF SHIPS TO BUY AND UPGRADE VERY FAST ENEMIES DYING TO TAKE YOU OUT TRY FOR YOURSELF 10 OUT OF TEN GEORGE WOOD XXX
Great game, just wish there was an option to control how fast you could move your craft around the screen. I think it's too slow.
So far so good. its got good graphics, is smooth and not boring.